Beautiful Music from a Bad Mouth
By Gavin Lambert , Feb 01, 2008

Lin answers the door. She is beautiful. I immediately find myself wondering two things. One, how did Jim get such an attractive woman to marry him? And two, could I get her to cheat on him with me? She beckons us in, and when she turns around I get a look at her ass and think, wow, but immediately start feeling bad because, I think, she is not that kind of woman. You donít, even though itís worthy of it, look at her ass and go wow. Not even just in your head.

She only speaks Chinese, Neil tells me, as we enter.

Itís okay, I tell him. Sheís very pretty.

I know, he says. Ben is a lucky man.
... (more)
Iím Building a New Watch Tower
By Kristin Komar , Feb 17, 2008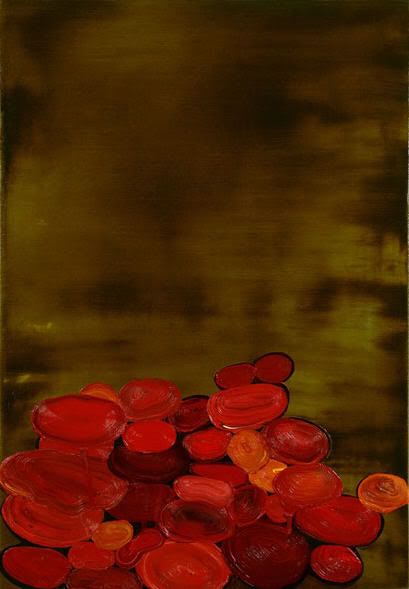 Beer: A Story of Love
By D.E. Fredd , Feb 04, 2008

We met at a speed dating conference. It was one of those deals where you sit for ten minutes, a bell rings and you go on to the next table. At the end of the evening, you hand in the numbers of anyone you ďconnectedĒ with and the people who run the thing get in touch with the party to see if they feel the same way about you. Somehow we matched up. We get along after a fashion, but Iíve always had the feeling Brenda just patronized everything I liked: beer, soccer, black and white films from the 1940s. Sheíd say she was up for something, but, once we got doing it, she was a wet blanket. Iím really not a romantic person; I admit that. I did take her to an inn on the Maine coast, which she liked. It was a bit too muffin-puffin for my taste as well as pricey. I tried to include her in last nightís round table discussion with...
... (more)
The Late 1980s On These Mean Streets Of The United States Of Amerika
By Doug Draime, Feb 01, 2008

Being in
my late
40s ( an old
man
in some
peopleís
book ) and
homeless,
watching
my
days
fold
like a bad
poker
hand,
where the
few
chips
left on my
side
of the table
I
pushed
back
into
the game
and
I
let them ride
I
was treading
on
thin ice
and
I
thought
fuck it
I
might
as well
dance

and
I
danced
baby
I
danced

After Buddy & Ritchie Died Flaming Down From The Sky
Yeah, The Big Bopper Too
By Doug Draime, Feb 01, 2008

3 white-panty clad, blond cheerleaders,
lead the parade,
twirling batons, high stepping
pushing that hairy bush
all with little white boots
putting one foot in front of the other,
eyes straight ahead, no sideways glances.
The band marching behind,
10 rows deep, playing
ďLetís Go To The HopĒ by Danny &
The Juniors.
All the cars in the parade were
1958 Cadillac Fleetwoods.
There on the sidelines with his sad hang dog
James Dean look, the guy who claimed
to be Elvisí second
cousin from outside of Memphis,
there he was pitifully drunk again.
His pregnant wife and 2 other kids in toe
He waves, bobbing his head around the marching
band, his upper lip twitching like
the King, and then suddenly he lunges forward and
down to his knees, and into the gutter, vomits profusely.
Yeah, thatís about when the music ended for me, too, man.



Doug Draime has been a presence in the Ďundergroundí and small press since the late 1960s. He was part of the notorious Los Angeles poetry scene of the latter 20th century. Most recent books: Spiders And Madmen (Scintillating Publications) and Next Exit: Three w/ Misti Rainwater-Lites (Kendra Steiner Editions). Forthcoming: Dancing On The Skids from Tainted Coffee Press. He lives in Oregon.


Interiors
By L. Ward Abel, Feb 01, 2008

These days have been all interior shots;

reddish, sienna, dark around the edges.

When a lamp turns on or off you can see it

from the outside, outside where I always

hear trains, hear their rolling thunder

and then that cry across pine rows. But

beyond these blinds and glass is a place

too big for me. When there is no more

tint in the air, when the switch

drains honey from the room,

Iíll lie here in the dark,

and on the inside.

This Is the Time
By L. Ward Abel, Feb 01, 2008

There is a storm when itís quiet,

something that grinds

beneath the surface of things

even when it sounds like

Spring. Iím being robbed

by these bad days. Outside

I point up at an angle,

make an arc in the south sky;

sunrise to the left, sets on the right.

Whatís more, I follow it all

from one chair. Inside

my TV has suddenly lost the red hue

and favors the blue.



Poet, composer of music (Max Able / Abel, Rawls & Hayes) and spoken-word performer (Scapeweavel), L. Ward Abel lives in rural Georgia, USA, and has been widely published in the U.S., Europe and Asia. His chapbook, Peach Box and Verge, has been published by Little Poem Press (2003). Twenty of his poems are featured, along with an interview, in a recent print issue of erbacce (UK). Abelís full volume of poetry, Jonesing For Byzantium, is published at UK Authors Press (London, 2006). His new chapbook, The Heat of Blooming, is forthcoming from Pudding House Press later this year.
The Fortune Teller
By William Taylor, Jr., Jan 09, 2008

An old woman
has a shop on the corner
of my block
where for a fee she tells
fortunes

on a walk
to the liquor store and back

I could do as much

you donít have to be gifted
with the divine

to read the lines
and the scars

on the faces
and the bodies

of the broken down pimps
and their slack-jawed girls

the addicts
and the lost

the dead-eyed hipsters
and the rest of us

drowning here on Larkin Street

the future is written on every face
every wall
every broken neon sign
above every strip club

and still sheíll charge you 40 dollars

itís such a racket.

When She Lights a Cigarette and Asks
By William Taylor, Jr., Jan 09, 2008

god is yourself
walking out into yet
another day never knowing
exactly why

god is the yellow sun
shining down
so uselessly upon everything

because thatís all it knows to do

god is the smile and the laughter
of the girl on the bus
beautiful enough to remind you
why you ever bothered
to exist at all

god is a story you canít guess
the ending to

enough change in your pocket
for another drink

the bright red polish
on the barefoot toe
of the skinny prostitute on Larkin Street

the voice of the old bartender
at the Gold Dust Saloon
as he laughs and tells me heís looking forward
to the beautiful nap

god is a half bottle of wine
found in the cupboard at 3 a.m.

the man
with a handful of pennies
who asks
what I can spare

and the laundry quarters
I give him simply
because I am too ashamed
to do otherwise

god is every splinter of light
in between all the darkness

and god is the darkness

and when she lights a cigarette
(god is her cigarette)

and asks me why I never
go to church
I can only wonder where it is
she thinks we are?



William Taylor Jr. lives in San Francisco with his wife and a cat named Trouble. His work has been widely published in the small press and across the internet in such publications as Poesy, Anthills and The Chiron Review. His work is scheduled to appear in upcoming issues of the New York Quarterly and his latest book, Words For Songs Never Written, a selection of new and collected poems is now available from Centennial Press. A book of new work is currently in progress with Sunnyoutside Press.


Poem From My Grave
By Michael Lee Johnson, Feb 04, 2008

Donít bring the rosary beads
itís too damn late for doing repetitions.
Eucharist, I can handle the crackers and wine;
I love the Lord just like you.
Catholicism circles itself with rituals--
groundhogs and squirrels dancing with rosary beads,
naked in the sun and the night, eating the pearls
and feeling comfortable about it.
Rituals and rosary beads are indigestible
even the butterflies go coughing in the farmerís cornfields.
Cardinal George, Chicago, would choke on the damn things;
some of his priests would have thought it a gay orgasm or piece
remote found in scripture from Sodom & Gomorrah.
But my bones in ginger dust lie near a farm in DeKalb, Illinois,
where sunset meshes corn with a yellow gold glow like rich teeth.
My tent is with friends where we said prayers privately like silent
moonlight. Farmers touch the face of God each morning after just
one cup of Folgers Coffee Columbian blend,
or pancakes made with water and batter, sparse on the sugar.
Sometimes I would urinate on the yellow edge of flowers,
near the tent, late at night, before the hayride, speak
to the earth and birds like gods.
Never did I pull the rosary beads from my pocket.
Itís too late, damn it, for rosary beads and repetitions.



Michael Lee Johnson is a poet, and freelance writer. He is self-employed in advertising, and selling custom promotional products. He is the author of The Lost American: From Exile to Freedom. He has also published two chapbooks of poetry. He is also nominated for the James B. Baker Award in poetry, Sam's Dot Publishing. He is a contributor to the Silver Boomers poetry anthology about aging baby boomers, by Silver Boomer Books. Michael Lee Johnson presently resides in Itasca, Illinois. He lived in Canada during the Vietnam era and will be published as a contributor poet in the anthology Crossing Lines: Poets Who Came to Canada in the Vietnam War Era scheduled for early 2008. Visit his website. He is now the publisher, editor of Poetic Legacy, Birds By My Window: Willow Tree, and A Tender Touch & A Shade of Blue. All publications are now open to submissions.


Untitled
By Elizabeth Murray, Jan 12, 2008

flower heads tilt gently

sweet sun warms the resting forms

>>deep sigh<< back to work



Elizabeth Rose Murray has poetry in The Beat and The Ranfurly Review, a regular haiku feature on Dogmatika, fiction on 3:AM, Six Sentences and Savage Manners. She also writes a poetry critique and a blog on getting published. Visit her at her website.




Duotrope's Digest reported that decomP was #4 in the Top 25 Swiftest Poetry markets and #13 in the Top 25 Most Approachable Poetry Markets before 2007 submissions closed.

my father and Kant
By Justin Hyde, Jan 09, 2008

my father
drank decades
of menial jobs
down the drain
finally settling on
pest control
technician.

Kant
tutored eighteenth century
paris hiltons
before eventually
saving philosophy
from the
empiricistís
microscope.

both had their
mothers die
when they
were thirteen,
both were
emotionally
devastated,
led lives
with few acquaintances
and no
friends.

Kant had a head
like a buffalo
and only cried
in his sleep.

my father
kept pictures
of a filipino woman
in a small
rusted tackle box
under the jack
in the wheelwell
of his buick and
only smiled
when infused with hendrix
and crown royal.

neither of them ever saw the ocean!

neither of them reconciled the loss!

donít you understand!?

but these cunt-brains
in the mercy ER
holding my arms down keep
trying to pump my stomach
and this bullet faced
chinese motherfucker
squeezing my ear
is whispering:

irrelevancy to tasks at hand,

irrelevancy to tasks at hand.

that kind of hypocrisy
By Justin Hyde , Jan 09, 2008

this coffee shop i go to
on 86th:

three
businessmen with their bibles open

discussing endemic problems of black youth
(all three are white)

lack of father figures,
early indoctrination into gang culture,
teen pregnancy,
dearth of education:

conundrum paradox enigma,
they chew each others cud in unison,
say a prayer
(and having satisfied their version of god
and their own cheese-cloth souls)

they close their bibles

pull out laptops and planners:

start discussing
a plot of land
on the ea(black)st side of town
for a new kfc.

cash flow projections
predict 90th percentile unit-per-hour profit
off each assoc(young uneducated black kids)iateís

7.25$,
which of course doesnít include
health insurance,

child care assistance,

ged programs,

or any actual desire
to see black youth
mobilize upward
and dry out these
twenty-first century
plantations.

Justin Hyde lives in Iowa where he works as a correctional officer.


Entertaining the Tourist
By Kristine Ong Muslim , Jan 18, 2008

That pole was once a tree.
See how leafless it looks.

The belly dancers will be here
in ten minutes; just stare at the

walls in the meantime. They are
painted while considering the

psychological effects of colors.
The back wall is the color

of soap suds, unnoticeable
and bland. Good for the ego.

Oh, you can also buy a wife
from the convenience store.

She comes with a free flashlight
and two tin cans of tuna.


Kristine Ong Muslimís publication credits and recent acceptances include more than five hundred poems and stories in over two hundred journals and magazines worldwide, such as Bellevue Literary Review, Caveat Lector, Chronogram, Cordite, Etchings, Grasslimb, Pearl, The Pedestal Magazine, Scrivener Creative Review, and Turnrow.


Waitress
By Melissa Hansen , Jan 11, 2008

Lungs tired
breathing meat
the sagged putrid
stands scratching
her bug bite
through bronze colored
hose.


Melissa Hansen lives in San Francisco where she writes, works at public libraries, and is a co-editor of poetry for The Guild of Outsider Writers. She has published and forthcoming work in various literary zines. You can visit her at her MySpace.