Heckle
By Michael Frissore , Jan 05, 2008

Dad would dress up and go to his Star Trek meetings, or the occasional convention on weekends, and remain dressed this way and drunk the rest of the week. I hated Star Trek. I hated Dad's commemorative plates, and that he would beat me if he caught me eating off of them. ... (more)
Sylvester
By Shelley-Ann Gordon , Jan 12, 2008

Your mother used to give me that look every time she came home and I was pressed against the couch in my tighty whities, a Corona in my hand and the speakers blasting my favorite scene at the beginning of the movie where Stallone catches the bad guy. Can you imagine, then, the look on her face when I told her there was a Stallonathon at the local theater? ... (more)
The Villain
By Nick Volkert , Jan 02, 2008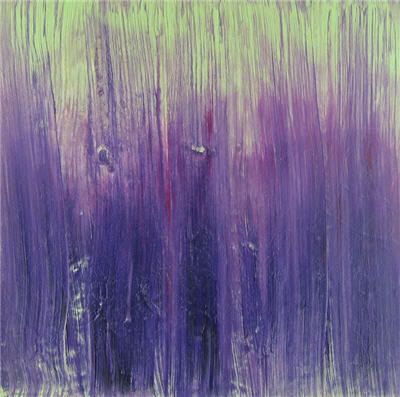 A Review of Messinger's Hiding Out (2007)
By Nick Ostdick, Jan 13, 2008
An indie-lit juggernaut, Messinger is the host of the much lauded Dollar Store Reading Series in Chicago, a series revolving around trinkets he finds at his local dollar store whereby he asks writers to compose short pieces based on those items—the series has sold out for the last three years; he used to edit THISISGRAND, an online publication of creative non-fiction about Chicago's public transit; he is the co-editor of Featherproof Books, a small press of fiction; and now he's an author, with his first book, Hiding Out (Featherproof Books, 2007) a collection of short fiction, released in October.

Much like his resume, the book is well-rounded, pleasantly varied in scope and voice. Messinger, in a most self-effacing way, displays his keen eye for storytelling through discontented twentysomething ... (more)
zombie tongue
By Jennifer E. Hudgens, Jan 06, 2008

i want to write my eulogy painted on a tin roof of over emphasized lyricists drowning in fervor and passion and flame

a conduit of my senses

it was just today that I noticed that the
posters on the wall are all crooked
maybe it is that I am crooked
and the wall has been straight all along
the posters hung with absolute care

I want a prescription for the intensity of
my emotions
But I don't want to become a zombie
I want a resolution for the high strung
antics that get my engines going
But I don't want you to write me an
anthem

For my dress size
Or my mistakes
The eraser can be cleared by a simple
run across
The carpet in eighth grade English class

I open the call log
I lock the door seventy-two times
When it was already locked after
One

Some time
Living in a path of self vindication
Lies
Path
Lies

I wished I was a better person even at the
age of 3
And now
Same
Shit
Different
Day

Ive never been stricken down
By anything as deep as heroin
Never had a needle in my veins that
wasn't warranted by my mothers
Hypochondria
Or lack of

Ive been addicted to sewing needles
pushed through eager flesh of palms
Razorblades gliding deep into milky
flesh like cutting through soft swiss
Alcohol replacing blood
Drugs replacing god

Atheism burned inside my black heart at a time when I still prayed
Hoping that I was wrong
That someone was listening
Knew the pain I was breaking under
Felt the despair in my eyes
Held me close without saying a word
And wrapped me in the wings of solitude
Left me waiting
Enslaving myself
Into dry eyes
Weak impulses
To flesh
And any fingertips
That will touch me
In lust

I don't crave silence anymore
The way I crave your lips
Your lore
Your idealistic sanctimonious bullshit that you left
At the bedroom door

Closet held the secret wills of men
That have come and come before
And I am just a faithless
Hopeful
Sentimental fool
Holding my eyelids pinched tightly together
Sifting through the twenty nine years of
my life
And still wondering


What kind of person I should be
What kind of woman I am
What kind of world is this
And would it be fair to say that I will
Be this.

Ive let men get away with things that
I always said id never let them do
I had to get away
Get away whatever the cost
To my psyche

Because they didn't care as long as they
got their
Cookies

But never.
Never a.
A dull.
Moment.

And I am still rotting at the seams
Broken into tiny glass shards swept up
with the hand broom
And dust pan

Dirt files away the day of my misanthropy
And I dine on a plate of stars
And sweet holy
Holy breath
And brine
Blood
And cake
Sleep comes quick
When the sugar hits my veins

And I hold
Hold
Hold
Hold you close
Close enough for you to cut my heart
Into devour-able pieces
Delicious with steak sauce
And a side of irony
And wild rice
Don't play me like a doomsday fiddle
Don't take away my token
Charm
Each snake encased in silver tongues
Licks to medusa's flesh

And I said.
I said.
I SAID! I SAID I KNEW THE PRICE!

I lied to help me sleep at night
Slip sweetly into my own veins
Drug induced apathetic principality
And now.

I long for bites to flesh.
And the zombie mind to recover.
Me.

In War & Peace
By Corey Mesler, Jan 06, 2008

In War and Peace
there's a guy who tied a policeman
to a bear
and set them both adrift in a stream.
I cling to such absurdities.
Whatever handholds there are in the
world are sympathetic
magic. Whatever ties us to story
is sympathetic magic.
I read because I am a reader. I tell you
about it because
you seemed so close just now. I want
to tell you other stories.
I never know what will signify. Can
you hold out your hand?
In War and Peace
there's a guy who tied a policeman
to a bear.
He set them both adrift. This is my
gift today, this scrap.
It sits in your palm like a fortune,
like a pictogram
of a bear and a policeman and a swiftly
moving Russian stream.

The Kate Beckinsale Memorial One-Legged Race
By Corey Mesler, Jan 06, 2008

We lined up at dawn because we knew
that some of us would die.
Weapons were oiled and shining like our
best dreams. We only wanted
to do our best. We had that face before us
like a full moon. We had the ideation
that launched a thousand slips. When Rich
pulled out his hammer and tongs
we knew the games were afoot. Later, after
the sun had put on quite a show,
Phil asked if Kate Beckinsale was going to
attend. We had to jugulate him, of
course, because the rules demanded it. The
Kate Beckinsale Memorial
One-Legged Race was not just a state of mines
but we tread carefully anyway.
It was something in our hearts that hurt
every time the box was opened.
It was something we held dear, like the first
time our mothers laughed. Or
the first time any of us thought of Kate Beck-
insale and withered, withered and sang.
Later we hurried back to the Master of the Revels.
We didn't want to be late signing up for the
Jennifer Connelly Cap-a-Pie Fashion Cabaret.



Corey Mesler has published prose and/or poetry in Turnrow, Adirondack Review, American Poetry Journal, Paumanok Review, Blood Orange, Yankee Pot Roast, Monday Night, Elimae, H_NGM_N, Center, Poet Lore, Forklift OH, Euphony, Rattle, Jabberwock Review, Dicey Brown, Cordite, Smartish Pace, others. He has two novels from Livingston Press: Talk: a Novel in Dialogue (2002) and We are Billion-Year-Old Carbon (2007). He can be found at www.coreymesler.com.


Near Christmas 2007
By Dan Provost, Jan 07, 2008

Also...
With a view of some
cheap Nirvana in my soul.

I will seek and find nothing...

ZZ Top sang Jesus Just Left Chicago once

Maybe he'll end up
on Watson Avenue—looking for
revenge for all the mortal
sins
I
have
committed...

The blinking Christmas lights
are worn on the triple-decker apartments.

Lower world seeking Jesus joy...

I will walk among restless purgatory engorged imposters
and wait for the Son of God to confront me...

I hope he is in a good mood.



Dan Provost's poetry is harsh and crude... Some like it while others hate it. He lives alone in Worcester, Massachusetts and loves Lynyrd Skynyrd.


methadone memory
By David McLean, Jan 06, 2008

memories are methadone
for the soul,
better than nothing
but not the real thing,
just waiting for the supplement,
smack or presented love,
to replace them and make them
everything, God's naked lake
we swim in, his complex
medicine



David McLean has around 375 poems in or accepted by 165 publications in print or online since December 2006. Details are in his blog at http://mourningabortion.blogspot.com. He has a chapbook "a hunger for mourning" published by Erbacce press, on sale at Lulu at www.lulu.com/content/1338495 and a forthcoming full-length book with Whistling Shade Press in 2008, "Cadaver's Dance."




Duotrope's Digest reported that decomP was #4 in the Top 25 Swiftest Poetry markets and #13 in the Top 25 Most Approachable Poetry Markets before submissions closed.

bukowski waxed my legs
By Jennifer E. Hudgens, Jan 06, 2008

my lunch was a fine
meat
carousel
stereotypical hippies and
rednecks all
full up with good intentions
dykes on center
stage
kicking vending machines
scowling at me
because she lost
her penny candy
I want to be a slut
Not dress slutty
But fuck everyone in
Sight
I cut the remnants
Of last nights dinner
With plastic ware
To no avail
Longing for a bite
Tempted to hit up the ATM
When I know I cant afford
It
I walked around the
Mall the other day-
Getting looks like-
Why is HE with >HER<
The answer-because he
Is gay and loves me
Like a sister
I thought about being
A lesbian once
Or twice
But realized that wouldn't make it
Any easier
My problem- is- I don't have
A cock
And I cant afford the
Surgery
They take less time in care than most women
They can pick and choose
Who they'll "let"
Fuck them
They don't even shower
Or shave
But we are smitten
Washing our skin raw
And shaving our
Kittens
Because that's what men like
I now pronounce
My rebellion to these
Neanderthal notions
Youre lucky if I shave my legs
And my kitty is
Assuredly smitten with
Several battery operated
Pieces of machinery
You are lucky we
Let you in enough to
Lie
And manipulate us
And we aren't as naďve
And blind
And as innocent as you
Think
Watch what you eat
And watch
What you drink
Because you assume
All women
Are vindictive
NO.
We all just know voodoo


Jennifer E. Hudgens, 29, Poet. She has a better relationship with words than she will ever have with people. She has worshipped the gods of metaphor for as long as she can remember. Writing is her favorite obsession, and she's been writing since elementary school trying to fend off anyone who attempted to destroy her imagination. Hudgens has recently been published in Issue 2 of the Kill Poet Press, www.killpoet.com, and the poem is called "blame bukowski." She hopes you enjoy her work because she enjoys writing it, letting it possess her, and bring her to life.


Kilometre Zero
By Andrew Taylor , Jan 07, 2008

To fan out from this spot
along the river trace the steps
along Quai Montebello
across the Place St Michel
its fountain reflecting flash
of digital camera

Bustle exiting the Metro
cool breeze flows along
the quai quenching taut
skin coffee aroma mixes
with exhaust and tobacco
smoke


Andrew Taylor is a Liverpool (UK) based poet and co-editor of erbacce and erbacce-press. Latest appearances online and in the small press include: Otoliths, Silenced Press, Debris Magazine, Type A B +,The Ugly Tree, Zygote in my Coffee and Origami Condom.


SCIENCE JUICE
By Luis Cuauhtemoc Berriozabal , Jan 08, 2008

They fill me up with science juice,
some illegal concoction cooked up
in some underground suburban lab.

I hear they use the blood of crickets,
caterpillars, and dead spiders. They
mix up the blood and put it in syringes.

They call it science juice and it is
supposed to work on anxiety and end
the voices of dead ancestors and ghosts.

The juice does not work well because I
continue to be anxious and death's voice
continues to chatter like a schoolgirl.


Luis Cuauhtemoc Berriozabal's chapbook, Keepers Of Silence, was published in December 2007 by Kendra Steiner Editions. He also has new work in Blue Collar Review.