Tremendous Power of Concentration
Part Four of Four
By Mike Smith , Sept 4, 2007

I had my own handwriting analyzed right before she left for the day. As I was writing, she said, "Wow, what tremendous power of concentration you have there." The next thing she told me was that I had a weird sense of humor and that it was often expressed in my writing and public speaking. She said I was often sarcastic and sometimes I was this way with myself – I used this sarcasm as a shield of sorts to protect myself against my enemies and the things they might say ... (more)
Realm
By Gaston Locanto , Jan 8, 2007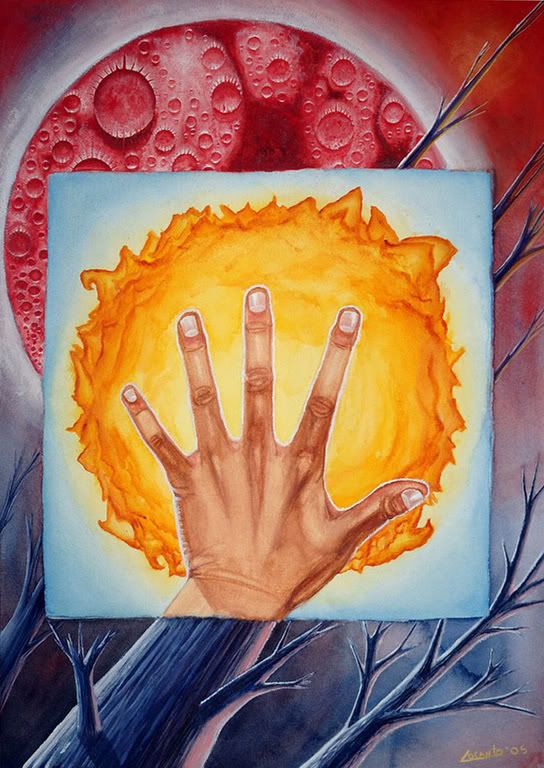 A Review of Saunders's The Braindead Megaphone (2007)
By Jason Jordan, Nov 19, 2007
George Saunders is known for his work with GQ, The Guardian, Harper's, and The New Yorker, and also for his absurdist fiction collections, but The Braindead Megaphone (Riverhead Books, 2007) is the author's nonfiction debut, which offers an assortment of stories on various topics. The hardcore Saunders fan will undoubtedly find much to like within this 257-page book, though similar to its predecessor, I must posit that it's not his finest effort ... (more)
Anna Nicole and Jon Benet in Hell
By Dan Fox, May 15, 2007
Anna Nicole Smith slid down the spiral candy-colored
death wheel
and landed in the BAD PLACE and by god there was
Jon Benet Ramsey to greet her

why are you here? Anna Nicole asked the little
princess
i gave my daddy a blowjob every night before i went to
bed
until he killed me so i wouldn't talk
Jon Benet said
why are YOU here?

i guess because i blew every man in north america
including some gay guys
and the only straight priest in Florida
Nicole said shrugging

the two plucky gals did the tourist thing and poked
around
between burning bodies and real red devils with
steaming schlongs and they
eventually met Pope John Paul himself.

because they only knew how to do one thing well
they promptly offered to blow him

the HOLY FATHER patted them on the head and gently
declined
he was saving himself for a cute boy
currently on death row.

He's a borderline crazy who keeps it cozy in Boston. He wrote for a long time and then painted for 20 years. He has nothing to show for his life except a young, beautiful wife and son and a tarnished but serviceable soul.

10 Minutes
By Josh Olsen, May 8, 2007
"10 minutes," said the pharmacist 30 minutes ago.

Jackson had strep-throat and we were waiting for amoxicillin. "She was an odd one, wasn't she?" said KT in reference to the nurse practitioner's big head of red sausage-curls, her thick southern drawl, the star of David that hung in her sun freckled cleavage, and her one gold tooth.

Down the aisle, an elderly man handled bed pans until a saleswoman approached. "My wife called about renting a commode," he said. "But I like this one here. $79.99? You can't go wrong!" I found it humorous – renting a commode, bargain hunting for a plastic shit-box – but KT didn't like the smile on my face.

"Commodes aren't funny!" she said. "You know what it means to need a commode? You have any idea what he and his wife are going through?" No …I don't, I thought. My overall lack of familiarity with death and serious illness made me still quite immature and I often laughed at catheters and colostomy bags, too.

"10 minutes," said the pharmacist 33 minutes ago.




Avocado
By Michael Grover, May 18, 2007
Hard green shell,
Soft green flesh inside.
Scoop out like a bowl,
Avocado.

I don't live in California anymore.
I do still like hause avocados.
They have them at the
Health food market down the street.
The price is higher,
But worth it.

I get them soft,
Plunge my knife inside.
Pull out the round core.
Now two perfect bowls.
I scoop out the flesh with a spoon.
Toast sourdough bread.
Cut tomato and cheese.
Add mayonnaise, salt, and pepper.
Ah, perfect sandwich, but messy.
I like my food that way.

Michael D. Grover is a Florida born poet. Michael's poetry has been published all over the world, including in Citizen 32, Alphabeat Soup, The San Gabriel Poetry Quarterly, www.getunderground.com, www.kissthebeat.com, www.dyingwriters.com, and the October 2007 issue of decomP. He hosts the website www.covertpoetics.com, he is a staff member of www.outsiderwriters.org, and hosts a reading twice a month at Exodus Coffee & Culture in Port Saint Lucie.

Fingernail
By Josh Olsen, May 8, 2007
I found a fingernail in the kitchen sink.
It was from a set of ten silver press-ons purchased with Skee-ball
tickets at last Sunday's carnival – June Dairy Days.

It belonged on a thumb, but
lint stuck to the adhesive backing
like bubblegum in hair, or the dirt that attaches to a Popsicle after
it's been dropped in the grass.

I washed it off in my mouth
and put it in the hip pocket of my jeans.
Later that afternoon, I'd pull the fingernail from behind my daughter's
ear, revealing it like a magician.

Josh Olsen teaches composition and creative writing at Wayne State University-Detroit and the University of Michigan-Ann Arbor. His poems have appeared in multiple print and on-line publications, including Zygote in my Coffee, Cherry Bleeds, Thieves Jargon, Wayne Literary Review, and Oleander Review. He can be contacted via e-mail.

Duotrope's Digest reported that decomP was #4 in the Top 25 Swiftest Poetry markets and #13 in the Top 25 Most Approachable Poetry Markets before submissions closed.

Edmonton Streets
By Michael Lee Johnson, May 17, 2007
Dec. 23rd,
alone,
40 below zero,
he died a cold
winter death
on 105th St.
near North
Saskatchewan River.
In his steel casket
buried beneath
rooted, frozen earth,
squirms the
lifeless breathing
of winter.

Mr. Michael Lee Johnson lives in Chicago, IL. He has several poems pending publication and huge box of unfinished poems, dating back to the mid 60s. He is a member of Poets & Writers, Inc and the Directory of American Poets & Fiction Writers.


Amelia
By Justin Hyde , May 31, 2007
a large group
of motorcyclists
are gathered
around a bonfire
in the parking lot
of my local bar.

they pass around
a coffee tin
for the wife
and newborn daughter
of the twenty year old
kid
who was stabbed and
died
in this same parking lot
three days ago
after a fight
in the bar.

the dead kid's dad
leads the group,
he is sure
a black did it
and if the cops
don't find who
he damn sure will.

i saw the kid
that night,
watched him
go in and out of the bathroom
to smoke meth,

pushing his luck
past the edge of reason
with a hispanic woman
who was spoken for.

tragedy, tragedy
they murmur
while
rubbing their hands
over the flames.

i drop a ten
in the can
and ask the name
of the baby girl.

His name is Justin Hyde. He lives in Iowa, where he attempts to rehabilitate criminals.

Submissions are closed until January 2008. We will continue to update each month as always and we look forward to receiving all new submissions again when the New Year arrives!